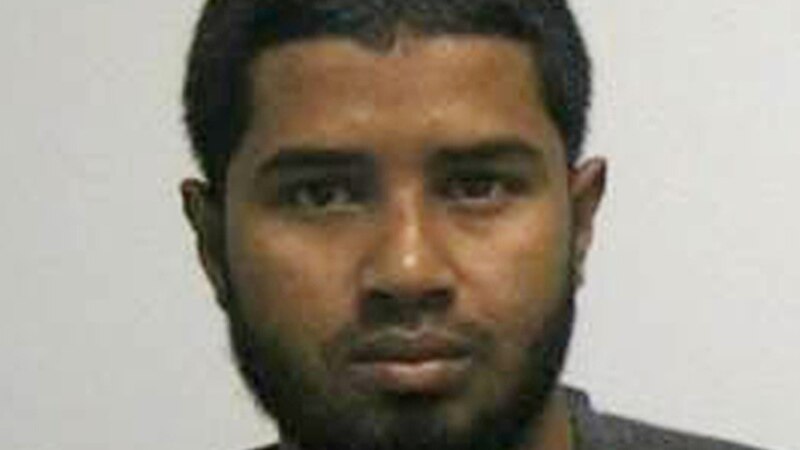 NEW YORK CITY — 
The man who set off a crude pipe bomb in the New York City subway system Monday has been charged with making a "terroristic threat" and supporting an act of terrorism, New York Police said Tuesday.
The suspect, 27-year-old Akayed Ullah, was also charged with criminal possession of a weapon.
Authorities say Ullah, a Bangladeshi immigrant and former taxi driver, used Velcro and zip ties to strap an explosive device to his body Monday, but that it did not fully detonate.
Law enforcement officials say he had watched Islamic State propaganda on the internet and told investigators he acted in retaliation for what he sees as U.S. military aggression.
Monday's attack took place in a tunnel that connects the Port Authority Bus Terminal and Times Square subway stations. Security video shows the attacker walking among the rush-hour crowd and then smoke filling the area as the device goes off. The man is then seen laying on the ground as people rush away from the scene.
The attacker was taken to a hospital in serious condition with burns on his hands and torso. Three other people suffered headaches and ringing in their ears.
"This was an attempted terrorist attack," said New York Mayor Bill de Blasio. "Thank God, the perpetrator did not achieve his ultimate goals."
Albert Fox Cahn, legal director for the Council on American Islamic Relations in New York, issued a statement on behalf of Ullah's family. It says they are "heartbroken by the violence that was targeted at our city today, and by the allegations being made against a member of our family."
The family also questioned the actions of investigators, saying law enforcement officials held a teenager out of classes to interrogate him without a lawyer or his parents and kept young children out in the cold.
"These are not the sorts of actions that we expect from our justice system, and we have every confidence that our justice system will find the truth behind this attack and that we will, in the end, be able to learn what occurred today," the family said.
Trump blames immigration system
Meanwhile, authorities in Bangladesh said they had located Ullah's wife and baby in Dhaka and were questioning the wife.
Ullah came to the United States under a visa program for people with relatives who are citizens or permanent residents.
President Donald Trump said Monday's attack shows the need for Congress to pass immigration reforms "to protect the American people."
"Congress must end chain migration," the president said in a statement. "The terrible harm that this flawed system inflicts on America's security and economy has long been clear. I'm determined to improve our immigration system to put our country and our people first."
Bangladesh's embassy in Washington issued a statement condemning Monday's attack.
A massive emergency response above and below the ground shut down the area around the attack in midtown Manhattan, but by afternoon the scene returned to normal.
"The fear is always present with us, those of us that live in New York," Laura Gonzalez, a New York resident who was in Port Authority Monday, told VOA. Gonzalez said that in New York, people learn "to go to work, to go shopping, to live the life we need to live."
"Crazy people are everywhere, every time, and New York is a big place, and a public place so it is normal, I think," Ruben Schwartz, a tourist from Germany, told VOA.
Monday's was the second apparent terror attack in New York in the past two months.
An IS sympathizer plowed down people with a rented truck along a bicycle path in Manhattan in late October, killing eight.